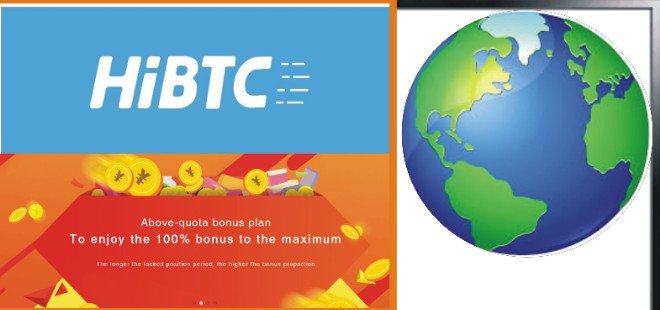 The HiBTC Cryptocurrency Exchange Review
When the blockchain technology was introduced, it disrupted many areas of our life. It brought about the concept of digital currency popularly known as cryptocurrency. Since its inception, there have hundreds of digital currencies introduced into the market. And just like any virtual currency, holders of digital currencies can exchange a cryptocurrency for the other.
With the rise in ICOs, there is the need to have a trusted system with which users can exchange a cryptocurrency for the other. Although we acknowledge the presence of quite a number of exchange services, there are major cons to them. These cons are:
· Increased in the number of fake operatives which has led many users and investors to lose their precious asset
· Security is a critical issue as many exchange services lack the resource to make them hack proof.
· Also, many exchange are known for making crypto's pay a huge fee for listing. This is indirect extortion and crypto's that cannot afford such lose such opportunity.
· There are very low liquidity with some exchanges
Having identifies the bad sides of many exchange services available; HiBTC came as a form of Hybrid to provide solution to the downside of famous exchange.
Introducing the HiBTC Exchange
HiBTC is a new crypto trade market in charge of exchanges for digital currency. Providing a fair, secure and transparent investment platform, HiBTC is a digital asset exchange channel, with the aim of bringing about smooth interaction on the blockchain network.
Part of the major idea behind the introduction of the Blockchain technology is to bring about a secure and fair credit society. Fortunately, the founders of HiBTC also shares in this mission. This prompted the name as a combination of Hi & BTC.
HiBTC also seeks to get rid of the information scarcity between users, management, shareholders and companies. This will happen by using the traditional business model. There will be a shared management structure in which all users (users with HIBT tokens) will take part in decisions of the platform.
Features of the HiBTC Exchange Platform
· The digital assets of users and investors are completely secured on the platform. There is iron clad security system put together by HiBTC which makes the system impregnable to hackers. With these, assets are safe from preying eyes.
· Transaction on the HiBTC platform is pretty fast. The platform has been proven to handle over 2000 transaction in a second. This feature alone stands HIBTC out of the exchange sites that delay processing
· There are useful technical support for users and investors of the platform. Thus, whatever the issue is, there are trained hands to offer assistance.
HiBTC has put together measures to reduce the risk that users might face on the platform. Hence, it is safe to say that security and safety is part of the priority of the HiBTC
HiBTC token and benefits to Users
HIBT is the main token of the platform with a definite number in circulation — 10 billion HIBT tokens. HIBT will be the main token of the platform and a digital asset that will protect the interest of users and the entire HiBTC platform.
There are many things holders of HIBT will benefit. A few of them are discussed below:
· Joint Governance
Matters and decisions on the platform will not lie solely on the shoulders of the management of HiBTC. There will be a smart contract voting system with which decisions will be made.
· A Fair Revenue Sharing Principle
Holders of the HIBT will be entitled to a fair share of all revenues derived on the platform. There will be a daily sharing all based on laid down rules.
· Iron Clad Security
Security of fund is very crucial for any digital currency exchange platform. Hence, the HiBTC with this in mind, have set down many protocols to ensure the platform is safe. There is the multi layer firewall system, mulitv — signature program, cold hot money bag isolation guide all designed to ensure the platform is secured.
· Participating in Community Supervision
HIBT token holders will also get to select community members and supervisors. And they will always be accountable to the entire platform
Highlights:
Each trade must be secure and furthermore have adaptable exchanges. Aside this arrangement, HiBTC has outside associations with security outfits. The last will assess the stage's codes. HiBTC likewise has different firewalls and marks notwithstanding chilly sack for resource stockpiling.
Uninvolved Acquiring:
Through the Exchanging Mining idea, the undertaking rewards clients for being in having of its token. There will be distribution of half of its token to the end-client. These are put away in the Holder Shared Store Record. Henceforth, rewards are dispersed to numerous clients.
Money related Orders and Administration:
Aside resource sharing, HiBTC additionally offers clients data to support their exchange. You may have not loaned your conclusion in different trades but rather you can do as such here. Its people group based model encourages peer administration. Being in control of 5% of its token permits you partake in the stage's administration. Clients can likewise list monetary forms on the stage. Floated by this, HiBTC works a straightforward system where all information is made open.
Throughput:
Aside high expenses, brokers modest far from different trades as a result of restricted exchanges. A portion of these trades experience issues when they surpass their scale. HiBTC guarantees quicker exchanges to the tune of 2 million TPS.
Token Distribution
Incentives: 50%
Investors: 5%
Team: 25%
Holder Shared Fund: 18%
Marketing: 2%
Token Details
Ticker: HIBT
Token Supply: 10 billion
Summary
Current trades' restricted throughput and high charges were a piece of HiBTC's inspiration. By its attack into the space, it would bring straightforwardness and compelling force redistribution. Clients would now be able to profit when the trade made a few benefits and furthermore take dynamic part in basic leadership.
Learn More About HiBTC with the links below:
Exchange Link:
https://www.hibtc.com
Whitepaper:
https://www.hibtc.com/om/about/en-us/whitepaper.pdf
Twitter:
https://twitter.com/HiBTC_Exchange
Telegram:
https://t.me/www_HiBTC_com1
Authored by
https://bitcointalk.org/index.php?action=profile;u=1095805